This caprese chicken foil pack meal is supa easy! The perfect main component for lunch, dinner or even on the braai!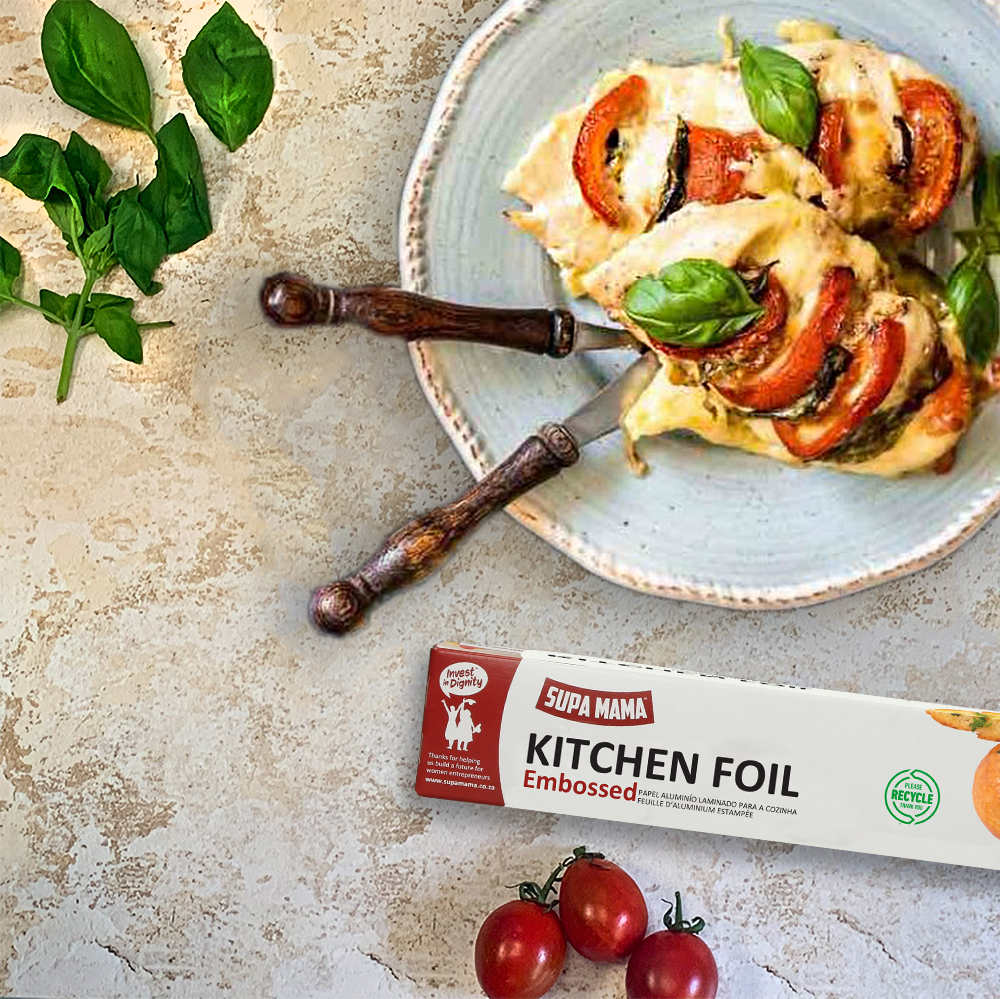 Prep Time: 10 minutes
Prep Time: 25 minutes
Serves: 4
Did You Know Supa Mama® kitchen foil is made from
You will need:
Supa Mama® kitchen foil (heavy duty foil for the braai)
4 boneless skinless chicken breasts
200 g fresh mozzarella cheese, sliced
2 large plum tomatoes, sliced
1/4 cup basil pesto
1/2 tsp Italian seasoning
Pinch of salt
Dash of pepper
Fresh basil leaves, if desired
To make:
Preheat your oven to 180°
First, slice 3-4 deep diagonal slices into each of your chicken breasts. Make sure you don't cut all the way through.
Lay out 4 (roughly 30x30cm) sheets of foil and spray with cooking spray.
Place a chicken breast in the center of each piece of foil.
Place a half a slice of tomato and 1 mozzarella slice in each slit of the chicken breasts.
Spoon about a teaspoon of pesto into each slit in chicken breasts. Sprinkle breasts with Italian seasoning, salt and pepper.
Fold up the foil edges making sure there is a tight seal but still space for heat circulation and expansion.
Place foil packs onto a baking tray and set in the oven for 20 minutes or place then on the braai grid and cook for 15-20 minutes rotating as needed.
Once done, remove from the oven or braai and carefully open the foil pack. Garnish with fresh basil and serve with a side of veggies or chips.
SUPA TIP:
Adjust your cooking times for the braai temperature. Be sure to open the foil pack carefully as it gets very hot inside! The chicken creates a lot of juice, this is normal, just remove your chicken from the foil or drain to serve.