Supa Mama heavy duty foil brings strength and style to your kitchen and is ideal for sticky meals like this tasty chicken tray bake. No messy trays here!
Prep Time: 2 hours
Cook Time: 25 minutes
Serves: 4
For the marinade:
60ml (1/4 cup) soy sauce
20ml (4 tsp) sesame oil
30ml (2 tbsp) honey
5ml (1 tsp) minced ginger
5ml (1 tsp) minced garlic
For the tray bake and salad:
Supa Mama® heavy duty foil
6 chicken thighs
600g baby potatoes
1 red or yellow pepper, deseeded and cut into large chunks
1 small red onion, cut into 8 chunks
olive oil, for drizzling
salt and pepper
40g rocket
150g cherry tomatoes
80g feta, cubed
Sesame seeds (optional)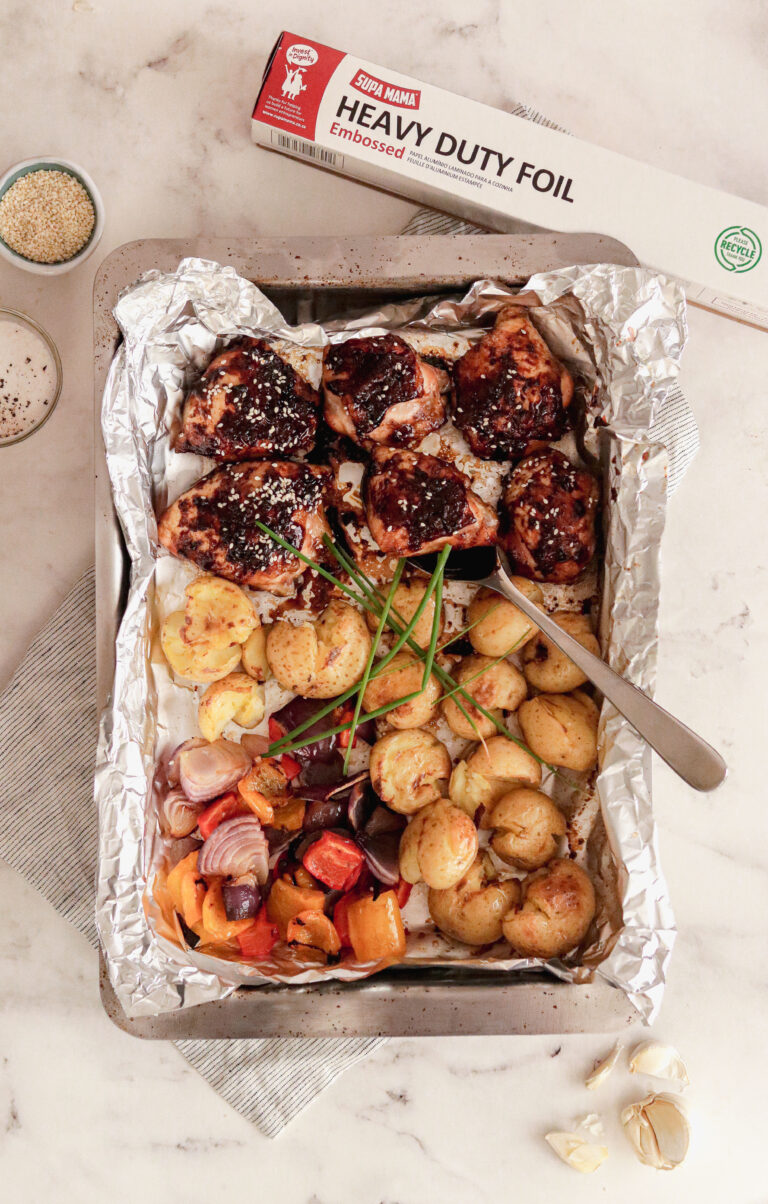 Method:
Preheat oven to 190° Line large tray with Supa Mama Heavy Duty Foil.
Combine the marinade ingredients in a bowl. Add the chicken pieces and toss together. Refrigerate for 20 minutes, or longer if time allows.
Bring a small pot of water to the boil. Add the potatoes and allow to boil for 10 minutes. Drain and set aside.
Remove the chicken pieces from the marinade and arrange them on the tray with the potatoes, peppers, and red onions. Reserve the marinade for later. Use the back of a spoon to gently press the potatoes and break them apart a little. Drizzle the potatoes and vegetables with olive oil and season.
Put the tray in the oven for 20 minutes. While the chicken and veggies are cooking place the reserved marinade in a small saucepan and simmer until reduced and thickened. Remove from the heat, set aside.
After 20 minutes remove the tray from the oven and baste the chicken pieces with the thickened marinade. Return to the oven for 20 minutes, or until the chicken is cooked through and the potatoes are soft. Turn on the grill and leave the tray under it for 3-5 minutes until the chicken and potatoes are golden.
To prepare the salad toss the rocket, tomatoes and feta together with a teaspoon of olive oil. Dish the chicken and veggies onto plates and sprinkle sesame seeds over the chicken. Add some salad on the side and serve.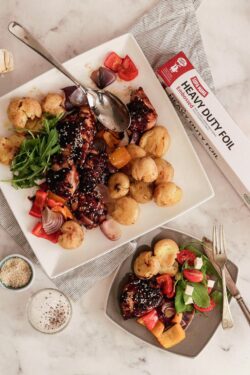 Recipe by Cupcakes & Cous Cous. Follow her page on Instagram for great recipes.
#MakesItBetter, #SupaMama