Lemon Meringue Pie reminds me of afternoon tea ☕
It is so easy to make it look beautiful piping simple designs with a Supa Mama® freezer bag!
This is a little different from a traditional lemon meringue with a delicious, condensed milk lemon filling.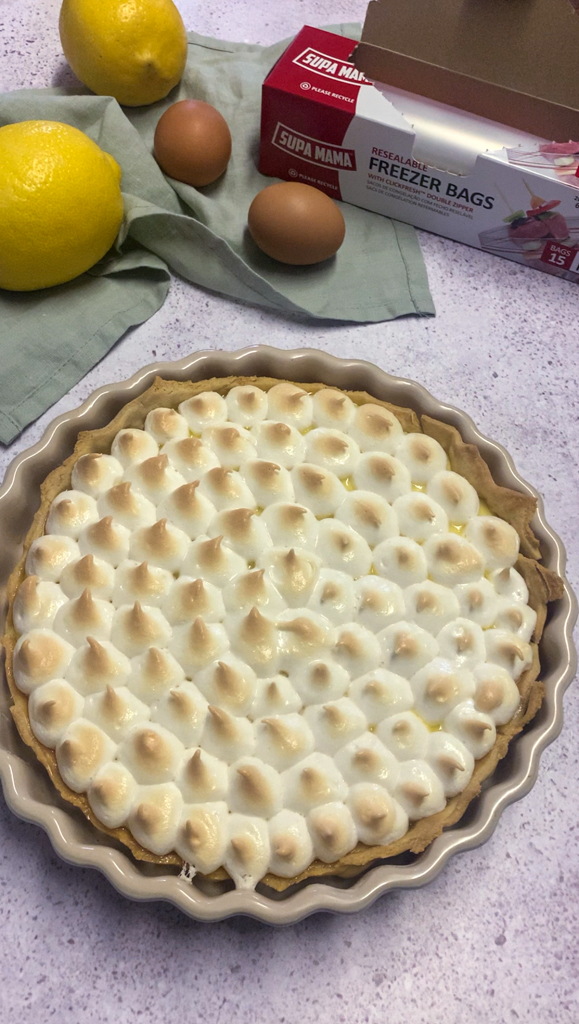 Serves: 8-10 people
Prep Time: 25 minutes
Cook Time: 20 minutes
For the pie:
Pie pastry, frozen or you can make your own
4 large egg yolks (reserve the whites for the meringue)
1 can (400 g) sweetened condensed milk
1 tsp. finely grated lemon zest (±1 lemon)
1/2 cup fresh lemon juice (±3 lemons)
For the meringue:
Supa Mama® large freezer bag
4 large egg whites, room temperature
6 tablespoons sugar
1/4 teaspoon cream of tartar
Instructions:
Bake pie crust as per instructions, until just slightly browned then allow to cool while you prepare the remainder of the recipe.
In a medium bowl, whisk together the egg yolks, sweetened condensed milk, lemon zest, and lemon juice. Pour into the warm crust. Reduce the oven temperature to 160°C after the pie crust is cooked.  
For the meringue: Place your bowl in the microwave (with nothing in it) for 30 seconds, this should make it slightly warm and prevent the meringue from weeping (#SupaTip).
Put the egg whites in the bowl and whisk or beat with an electric beater until frothy. Add the sugar in 1 spoon at a time while beating, add the cream of tartar and continue beating until the sugar is completely dissolved and the whites form thick glossy peaks, about 5 minutes.
Remove the bowl from the heat and transfer it to the stand mixer fit with the whisk attachment. Add the cream of tartar. Beat over medium high speed until the egg whites form thick, glossy medium-firm peaks (they should hold their shape but curl at their tips), 3 to 5 minutes total.
Scoop the meringue into a Supa Mama® large freezer bag cut a corner off and pipe your design onto your filling. Make sure your meringue is over the entire surface of the filling, all the way to the crust's edge (the meringue shrinks slightly when cooking so make sure it touches the edges).
Be sure you've reduced the oven temperature to 160°C and bake the pie for about 20 minutes, or until the meringue is lightly browned. Let the pie cool completely on a rack before serving, about 3 hours.
Storage Tips:
Lemon meringue pie is best eaten the day it's made, but leftovers will keep, loosely tented with Supa Mama® kitchen foil and refrigerated, for 2 days. Just keep in mind that meringue gets quite sticky in the fridge. Do not freeze.