These melted snowmen brownies make such a cute and delicious treat 🥰⛄
Despite the fact that there is no snow in South Africa at this time of year, and rarely ever, these sure do give a festive feeling!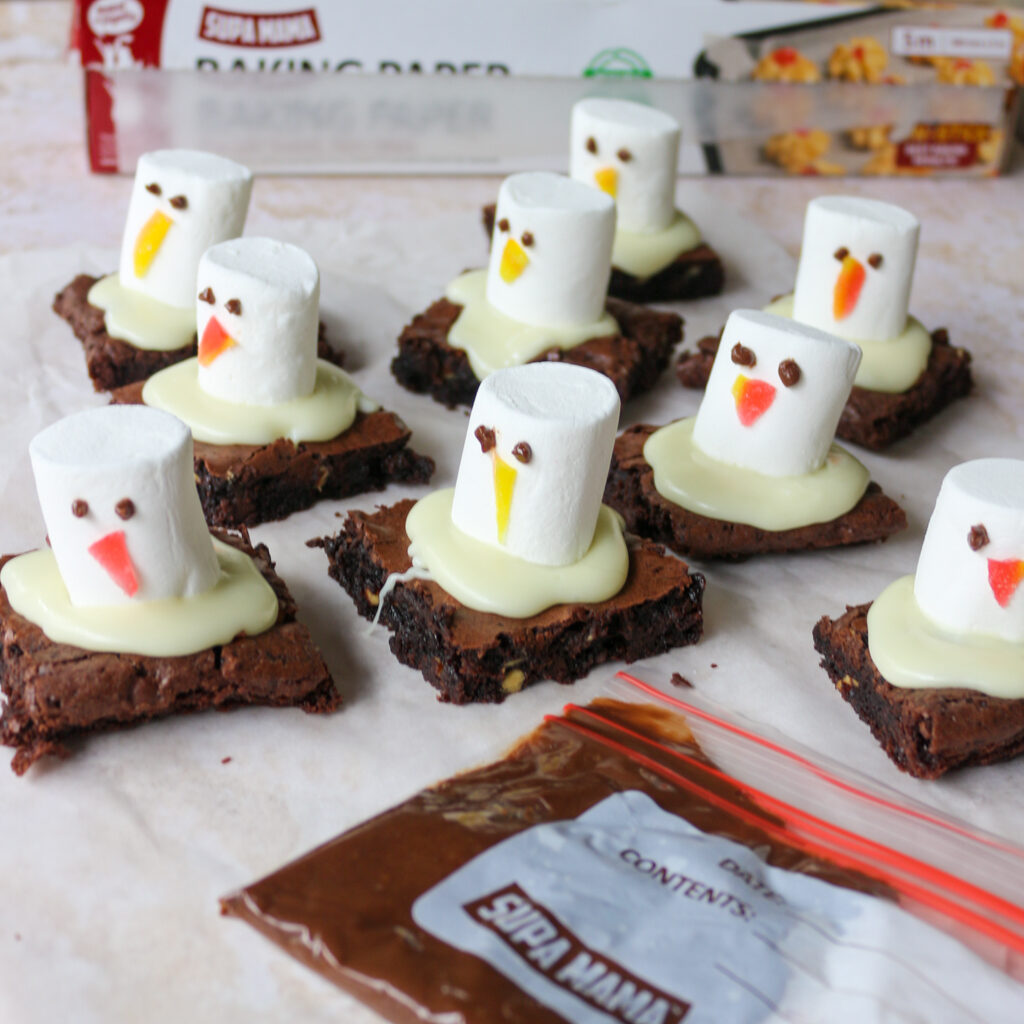 Makes: 16 Brownies
Prep Time: 10 minutes
Cook Time: 25 minutes
Decor Time: 10 minutes
Brownie Ingredients:
Supa Mama® baking paper
1/2 cup unsalted butter, melted and HOT
1 Tbsp. cooking oil
1 1/8 cup caster sugar
2 eggs, large
2 tsp pure vanilla extract
1/2 cup cake flour
1/2 cup unsweetened cocoa powder
1/4 tsp salt
Décor Ingredients:
Supa Mama® sandwich or snack bag
White marshmallows
100g white chocolate
50g milk chocolate
Decoration of choice for noses, I cut up peach sweets
To Make Brownies:
Preheat oven to 175°C.
Line a square baking pan with Supa Mama® baking paper, set aside.
Combine melted butter, oil and sugar together in a medium bowl. Whisk well for about a minute. Add the eggs and vanilla essence and beat for another minute.
Sift in flour, cocoa and salt to the wet mixture. Gently fold the dry ingredients into the wet ingredients until just Be sure to NOT over beat as this will affect the texture of the brownies.
Pour the batter into prepared pan evenly. *If you are adding in any extra's you can sprinkle them on top at this stage. I prefer to do this rather than folding them into the batter as they end up sinking to the bottom.
Place the brownies in the oven on the middle rack and bake for 20-25 minutes, or until the centre of the brownies in the pan no longer jiggles and is just set, the residual heat will continue to cook the brownies once out of the oven! Remember if you are testing with a toothpick, the toothpick should come out dirty as these are fudgy brownies.
Remove the brownies from the oven and allow to cool to room temperature before slicing into 16 brownies.
**Extras: Crushed walnuts, peanuts, almonds, pecans, chocolate chips, peanut butter chips, chocolate chunks, dried fruit (cranberries, raisins, etc)
To Decorate Snowmen:
Break up the white chocolate and melt it in the microwave. Stop at 30 second intervals to stir and continue until fully melted.
Spoon the melted white chocolate onto each brownie and top with a marshmallow to form the body of the snowman.
Melt the milk chocolate in the same way as the white chocolate and place into a Supa Mama® snack or sandwich bag, sealing and cutting off a tiny tip to pipe.
Pipe eyes and stick arms onto the snowmen.
Lastly place a cute nose onto your snowmen!
Want to know more about how Supa Mama® #MakesItBetter? Read more about how you become an agent of change with every purchase.